LeddarTech Awarded Gold by Best in Biz Awards 2019 International
Achieves Top Honor for Marketing Department of the Year
Blog post, August 21, 2019- LeddarTech's Global Marketing and Communications department was awarded gold and named International Marketing Department of the Year by Best in Biz Awards 2019 International, the only independent global business awards program judged each year by prominent editors and reporters from top-tier publications from around the world.
2018 was a uniquely transformative year for LeddarTech as the Global Marketing and Communications strategy was to firmly define the brand and message of LeddarTech as the leader in LiDAR technology. The LeddarTech solution of a scalable and affordable auto and mobility LiDAR platform provided Marketing an advantage when developing campaigns that focussed on communicating a sharp corporate message and unique value proposition to the automotive and mobility market. This distinctive positioning was delivered through a robust and international network of media and industry events and further augmented with an enhanced brand image. With the company experiencing rapid growth and geographical expansion, LeddarTech's Marketing and Communications department also focussed on enhancing the corporate culture from locally-engaged to globally-focused.
LeddarTech positioned itself as a global leader in automotive and mobility LiDAR, instituting a comprehensive, integrated global marketing and communications plan focussed on thought leadership that included over 100 campaigns aligned with global media partners, an extensive public relations strategy, e-mail campaigns, expanded social media networks, focussed content marketing, search engine marketing and website redesign as well as participation to over 40 events around the world.
Daniel Aitken, Vice-President Global Marketing and Communications shared: "This award was given in recognition of the marketing strategy employed, the measurable outcomes and the overall impact marketing has had on the growth and success of the corporation. The Best in Biz award is a testament to the determination, commitment and perseverance not only of the Global Marketing and Communications team but also of all our colleagues in LeddarTech."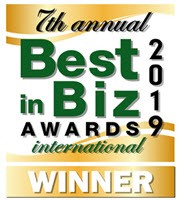 Close to 300 public and private companies from all sectors of the global economy and more than 30 countries competed in Best in Biz Awards' 7th annual International program. Best in Biz Awards 2019 International honors were presented in a range of categories, including Fastest-Growing Company of the Year, Most Innovative Company of the Year, Support Department of the Year, Executive of the Year, Most Innovative Product, Enterprise Product, CSR Program and Environmental Program of the Year.
Winners in the 7th annual program were determined based on scoring from an independent panel of judges hailing from a broad spectrum of top-tier publications and media outlets from 11 countries. Each year, only editors, writers and contributors to business, consumer, financial, trade and technology publications, as well as broadcast outlets and analyst firms, are invited to serve as judges in Best in Biz Awards. The program's uniqueness stems, in part, from this distinct composition of its judging panels, enabling it to best leverage the judges' unparalleled expertise, experience and objectivity to determine award winners.
"The quality of the entries this year was as high as ever," said Catherine Ellis, Downloads and Developing Technology Editor at Tech Radar (UK), having judged her sixth Best in Biz Awards program.
This year's judging panel included writers and contributors to such publications as Computer Hoy (Spain), Data Breach Today, HT Mobile (Israel), Huffington Post, IAA Magazine (United Arab Emirates), NDR (Germany), Small Business IT (Canada), TechRadar (United Kingdom), as well as other outlets from Australia, Canada, India, Indonesia and United Kingdom.
About Best in Biz Awards
Since 2011, Best in Biz Awards has made its mark as the only independent business awards program judged each year by a who's who of prominent reporters and editors from top-tier publications from North America and around the world. Best in Biz Awards honors are conferred in two separate programs: North America and International, and in more than 80 categories, including company, team, executive, product, and CSR, media, PR and other categories. For more information about the International program, see:
---