Mining equipment - controlling the fire risks
Used within the mining industry, heavy mining equipment – for underground and overground operations – often runs for long hours to meet demanding work schedules.
As they operate in high-risk environments – subjected to high levels of dust, prolonged vibrations and extended use – the risk of overheating is much higher for heavy mining vehicles, influencing fire risk.
As technology is continually evolving, we explore the fire risks linked to the use of heavy equipment at mines, explaining how to address these risks effectively to minimise downtime and maximise safety.
What's influencing fire risks?
Specific risks are dependent on a site's induvial risk assessments – which consider the mine's whole operations and how these vehicles operate in a particular environment. However, numerous fundamental fire risks will affect a number of heavy duty vehicles and mining machinery:
1. Overheating
As a result of the harsh operating environment, mine vehicles are unavoidably prone to accumulating dirt and dust. Although clean engine compartments can reduce risks, in the mining industry – where excessive dust is inevitable – it's usually more complex to keep these areas clean. However, if cleanliness isn't maintained, the risk of overheating can increase.
Overheating by itself doesn't necessarily lead to a fire risk. However, as mining vehicles operate for long periods of time, prolonged vibration can raise the friction between vehicle components, affecting wear and tear and further increasing overheating risk.
If this wear and tear lead to loose cables and sparks or damage to the injection pipe for diesel engines, causing leaks, for example, combined with overheating, this can lead to a dangerous electrical or spray fire – which can be aggressive and fast spreading.
2. Electrification
In the push for sustainability, many mining operations are shifting from traditional combustion engine vehicles to electric vehicles (EVs).
Although EVs are less vulnerable to overheating, the lithium-ion batteries that power them do introduce new fire risks. Four main factors can influence battery fires:
Over/undercharging
Heat exposure
Mechanical influences – for example, crashes or mechanical failures
Protection fault – where particles can enter battery cells.
Each one of these factors can cause an internal short-circuit, putting the battery at high risk of thermal runaway – where the temperature rapidly increases, raising the risk of fire, toxic gas emissions and potential explosions.
This risk requires a unique protection solution that can detect toxic gases before the temperature increases. Traditional detection solutions usually are unable to pick up on thermal runaway until temperatures begin to rise – by which time it's often too late.
3. Automation
Since the COVID pandemic, automation has grown rapidly, as driverless vehicles supported remote operations – increasing uptime and reducing health risks for personnel working in the mine.
However, with less workers on site, or operating at a greater distance to the mining vehicles, detecting a potential fire can be more complex. This makes an automated detection and suppression system vital to increase the response time and minimise downtime and risk of damage.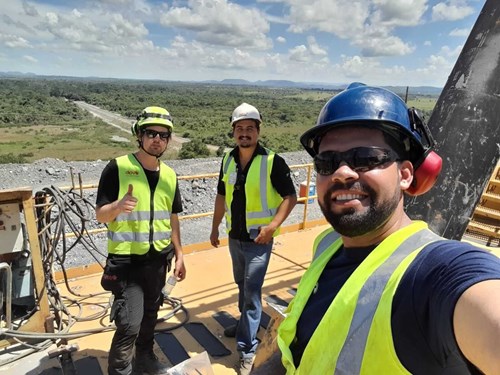 How can mine operators minimise the risks?
To minimise the risks, you need to first understand your mine's individual risks. As your technology adjusts, it's essential to continually revisit your risk assessment map to review your fire detection and suppression solutions.
Each vehicle – whether electric, diesel, automatic or manual – will have its own unique risks, which should be addressed in your fire prevention solution.
Controlling a site's fire risks should be centred around your entire mining operation and needs to be tailored to address risks effectively, minimise downtime and maximise safety.
For more information, get in touch.
---